Which Packers team was the best? Debating it as NFL celebrates 100 years
There are many ways to compare teams to one another. Having spent decades comparing teams, especially in baseball and football, I have my own thoughts on how you should compare teams across different eras. This article is going to compare only the Packers Super Bowl winning teams through certain comparisons I feel are relevant. Though many of the great Green Bay teams occurred before the Super Bowl, this will look only at Super Bowl championship clubs.
One of the best breakdowns of different Super Bowl teams I've ever seen came from ESPN's Page 2 [1], and many of the factors they used in their ranking I will be incorporating here.
The Packers have won four Super Bowl championships (1966, '67, '96, and 2010) and have five teams that have reached the Super Bowl ('97's lost to Denver). Unfortunately, the NFL has rarely praised it's history prior to the Super Bowl, and for reasons I will never understand, many fans essentially disregard NFL titles prior to 1966 (beyond stupid, but that's what you get when people buy into the glory of a game renamed "Super Bowl" from "NFL Championship Game.")
The best Packers team was 1962's of Lombardi and Starr, but for the sake of this article, lets dive into the Super Bowl champions only. Opponents W-L pct N/A in '66 and '67 because it was prior to the NFL/AFL merger in 1970
The 1967 team won Super Bowl II.They were likely the weakest of the Lombardi-era teams and represented the last hurrah of the '60's Packers, as Lombardi would stay on as the team's general manager for 1968, but handed the coaching position to Phil Bengston. Lombardi coached the Washington Red Skins in 1969.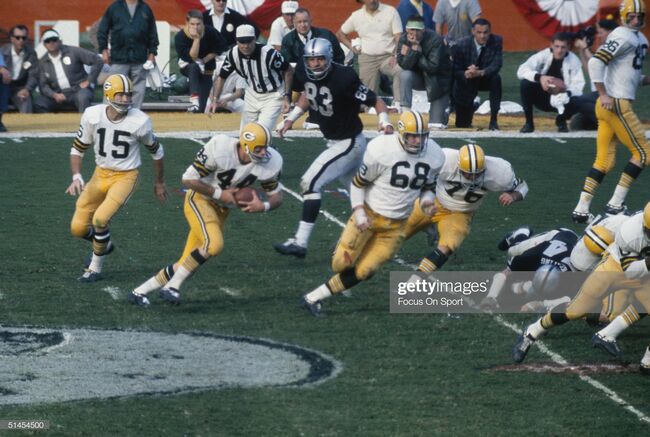 Bart Starr hands off to Donny Anderson in Super Bowl II
The '67 team wasn't good offensively, ranking 9th out of 16 teams in points and yards per game.Bart Starr threw 9 touchdowns against 17 Interceptions.Leading rusher Jim Grabowski averaged only 3.9 yards per carry. That said, the defense was outstanding, (averaged about 7 points allowed fewer than league average) found a way to outlast the Cowboys in the Ice Bowl, and destroyed the Raiders in the big game. The 1967 team was, by far, the weakest of their Super Bowl champs.
The 1966 team won the inaugural Super Bowl over Kansas City 35-10. They were all over the board offensively, ranking fourth in points scored but just seventh in yardage. Jim Taylor averaged just 3.5 yards per carry as their leading rusher. Their offense averaged just two points above the league average. However, Bart Starr had a career best 105 passer rating, in an era where that high a number was much more unheard of than it is today. Their defense was fantastic, allowing the fewest points in the NFL (10.1 points per game below the league average) and the third fewest yards. They also suffered their two losses by just four total points. They went 6-1 against .500 or better teams and dominated the postseason.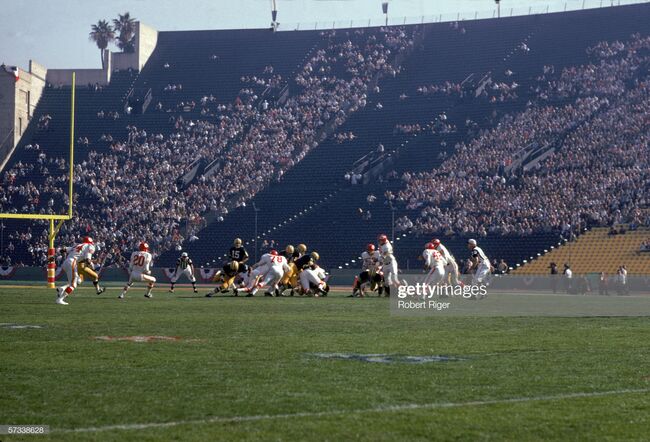 Not only was the first Super Bowl not sold out, it was broadcast by both NBC and CBS TV
The most difficult team to rank historically was the most recent champion, the 2010 Packers. They finished 10th in points scored and 9th in yardage, but defensively had one of their best units, allowing the 2nd fewest points in the NFL and the 5th fewest yards. They were about 2 point per game better than league average offensively, but about 7 points per game better than league average on defense. The '10 team wasn't fantastic against .500 or better teams, going 4-3, and had three one possession games in the postseason. While this group didn't dominate the postseason or play really well against stiff competition like the '66 team did, they also accomplished much of their success with numerous injuries.
The 1996 Packers have frequently been cited as their best of the Super Bowl era, as they are the last team to have led the league in most points scored and fewest points allowed. Their defense had more than twice as many interceptions (26) as touchdown passes allowed (12) and held the opposition to 5.4 yards per pass attempt. They also averaged about 7.3 points fewer per game than the NFL average. The Reggie White, Sean Jones, etc led defensive front was the primary reason for this. An interesting state about this team is that it didn't have a 1,000 yards rusher or receiver. That said, it was the best offensive Packers champion, averaging 28.5 points per game, 8.1 points per game better than the league average of 20.4. All three of their losses were on the road and it won every postseason game by at least 14 points. Desmond Howard also broke the single-season NFL record for punt return yardage. And it had Brett Favre in his prime.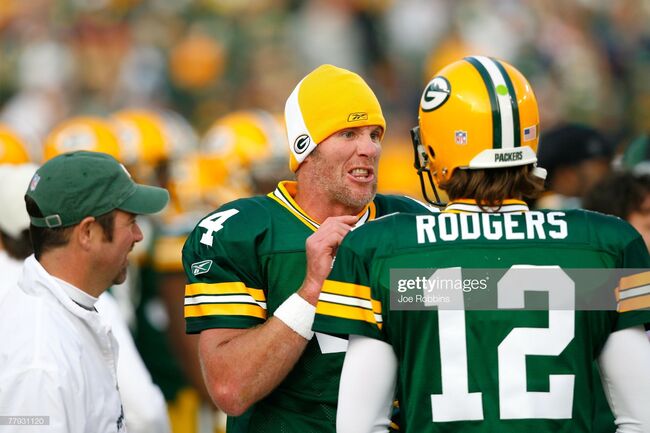 Favre letting Rodgers know HIS team is number one in this article
The best Packers team of all time was in 1962, which was like a varsity team scrimmaging a bunch of eighth graders throughout the league. However in the Super Bowl era, which right or not is what fans and the league care about, the 1996 Packers were the best and most dominant team. All were worthy champions, but it was the Holmgren-Favre led team that stands atop the mountain.
[1]http://sports.espn.go.com/espn/page2/story?page=super/rankings/80-61
Other sources: Getty images, pro-football-reference.com

Mike Pilch
Mike Pilch is a news anchor for WIBA-AM and WISN-AM as well as a sports anchor for WTSO-AM and WRNW-FM.
Read more